Why I Am Running
Our country was founded on representation of the people. That representation happens through elections and those elections should be celebrated. When the four city council incumbents decided to file and run together, lumping their four voices into one, it seemed to discourage others from running for office. This motivated me to file as a candidate.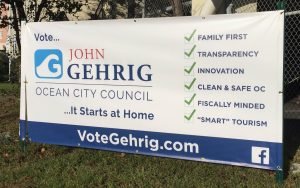 Just look at the political signs throughout town. These signs are a sign… they show how the four incumbents are together… as one. Then there is my sign… all by itself. That is a symbol of how each of the candidates will represent you. Don't get me wrong… I can agree with people, but I am also not afraid to disagree, either. This mentality is what every citizen deserves.
I provide a different choice; one that is an independent mind with a bold voice.
I hope to earn your trust… and your vote on November 8th.
Why Me?
Fresh Perspective & Ideas
Accessibility & Availability
Innovative with Foresight – I started my Internet business in 1995, for example
Understanding of Technology & New Economy
Experience Running Profitable Businesses
Experience Managing Tight Budgets
Experienced Negotiator and Problem Solver
Commitment to Ocean City
Not Afraid To Tell The Truth
Motivated to Provide an Exciting OC Future for My Young Children